Hire Front-End Developer
Level up your web interface with our skilled frontend developers. Deliver exceptional user experiences and cutting-edge designs for your digital projects.
Over 5+ years of proven success in the industry
We maintain transparency throughout your project.
Expertise in creating SEO-friendly and mobile-responsive web solutions.
Implementing robust security and authorization measures.
We ensure project privacy with signed NDA documents.
HIRE DEVELOPER
Hire Best Front End Developer In India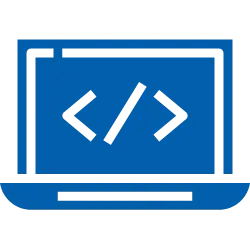 Hire the best front-end developers for mobile devices and SEO-friendly highly optimized websites. We have 5+ years of experience in front-end development. We offer you our front-end development services using HTML/CSS/BOOTSTRAP development, we also provide custom theme development and headless front-end development using JavaScript technologies like React, Vue and
Angular development
.
Our Front end developers are working in-house only. And our hiring mechanism is straight-to-hire top-class Indian front-end developers.
Are you planning for a project or would you like to hire our front-end developers? Let's have a talk and get a free business consultant.
Our offshore front-end developer has more than 5+ years of experience that ensures you effective custom solutions saving up to 60% on development costs.
Front-End
Expertise Of Our Front End Developers
01
HTML5 / CSS Development
Our front-end developers can work with HTML5/CSS and modern CSS frameworks like Bootstrap, Gulp, and SASS to develop a user-friendly website with front-end development technologies Also, we develop a website based on W3C standards and cross-browser compatibility coding guidelines which can help to achieve your goal.
02
Custom Web App Development
Hire a front-end developer for web application development using React JS, Angular JS, and Vue JS. Our Front end web developer can work with another variant of JavaScript technologies as well! Also, our front-end developer develops clean code that is extraordinarily easy to use to accomplish them.
03
Full Stack Web Development
Hire a full-stack front-end web developer for enterprise-level web application development using a variety of technologies. Also, our highly skilled developers have expertise in web architecture and communication protocols with interactive user interfaces and a strong backend
04
Custom Theme Development
Our front-end developer can help you convert your PSD design into WordPress, Umbraco, Drupal and many more. Our highly skilled front-end designer will provide you best, most responsive, and most robust for any Content management system.
05
Hire Dedicated Front-end Developers
You can choose our best-dedicated front-end developer who can help you to achieve your result. They can convert your design into any CMS
06
Front-End Optimization Services
Get your existing website functionalities to achieve higher ease of usability and performance with our front-end optimization services.
FAQ QUESTIONS
Do You Have Questions? Look Here
A dedicated front-end developer is responsible for the design and functionality of the user interface of a website or application. The hired developer works on the parts of the code that directly interact with the end user, such as the layout, visual elements, and user interactions. Hiring a dedicated front-end developer allows for specialized expertise in creating visually appealing and user-friendly designs, as well as ensuring the user interface is optimized for a wide range of devices and browsers. Additionally, a dedicated front-end developer can work closely with a back-end developer to ensure a seamless connection between the front-end and back ends of the website or application. Hire your dedicated Frontend Developer with Codevision Technologies today – Inquire Now 
Our dedicated front-end developer can provide a wide range of services to help improve the design and functionality of your website or application. Here are a few examples: 
Website Design and Development

 

User Interface Design and Development

 

Cross-Browser and Device Optimization

 

Performance Optimization

 

User Experience

 

Accessibility

 

Testing and debugging

 

Development of New Features

 

Maintenance and Updates

 
You can communicate with your hired resource by email and video conferencing, ask for hourly daily updates, and much like it would with a locally hired resource. 
We do not want to lose our clients' trust. As soon as you've given our representatives your needs, we will be certain to sign the non-disclosure agreement. Furthermore, we have a confidentiality clause with our application developers to guard your thought within the parameters of our firm.