PowerApps Development
Get Our Professional PowerApps Development Services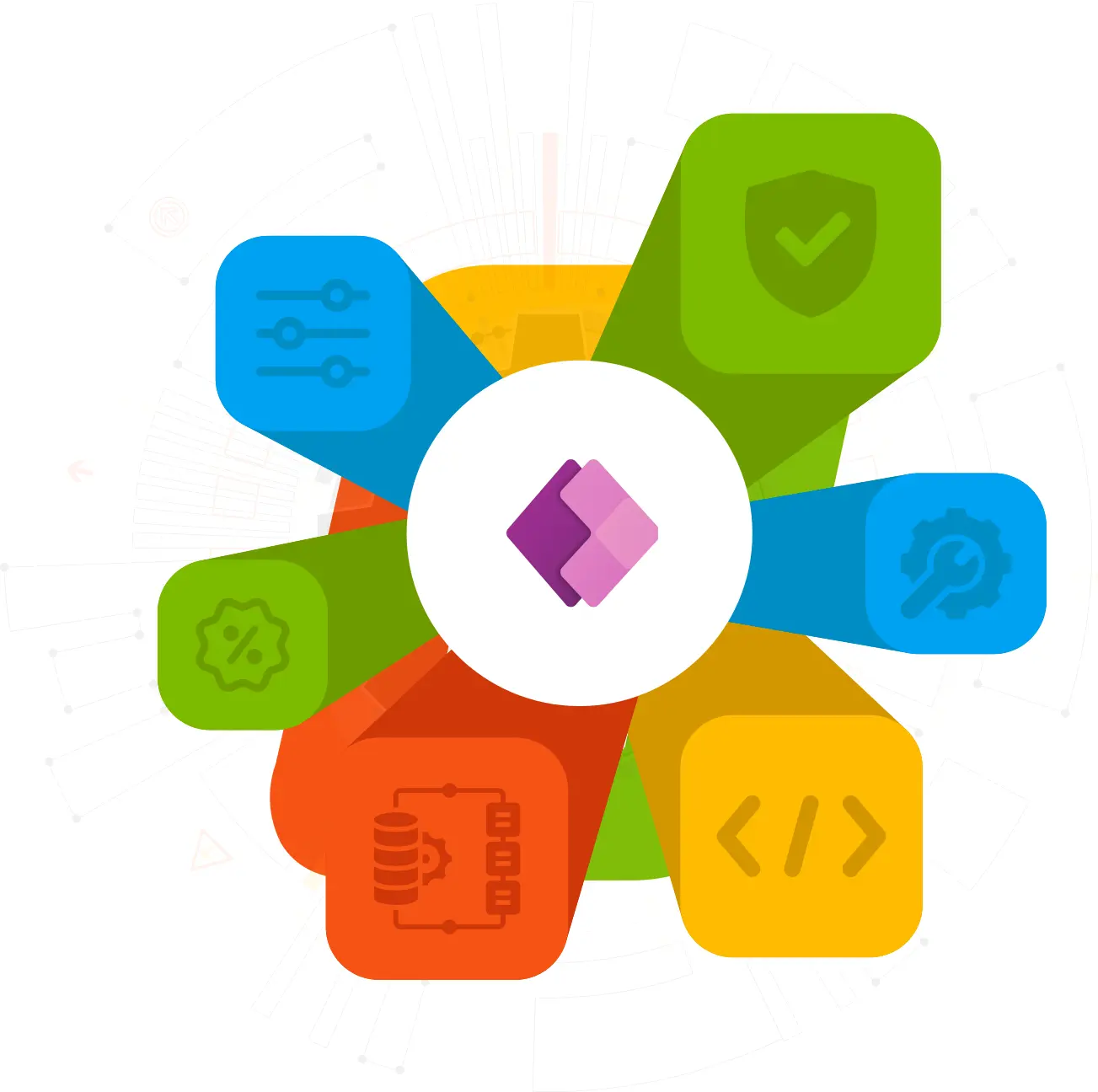 POWERAPPS
POWERAPPS DEVELOPMENT SERVICES
Develop and Build Superior Custom Apps With tailor-Made Microsoft PowerApps Superior Platform that entirely empowers high-end quality business apps without any utilization of code in a hassle-free way in PowerApps.
In Microsoft PowerApps you can develop and build extensive organization data, create apps of your own, and beyond that PowerApps facilitates such robust though easy-to-use features where any built apps can be accessed on any smartphone as well the browsers.
With Codevision PowerApps services, we can build powerful and reliable Apps for your organization regardless of the organization size from small to high-level organization.
OUR BEST EXPERIENCE
Platform-wide innovation from AI to RPA to Virtual Agents and beyond
Canvas Apps
Modal Driven Apps
Power Automate
Power Portal
Microsoft Teams
Dynamic 365
Businsess Card Reader using AI builder
DEVELOPMENT
Our PowerApps Services
PowerApps Consulting Services
We have intuitive PowerApps Consulting Services for all sizes of companies from small, medium and large-scale organizations and also for enterprise-level businesses. Our PowerApps developers are well-versed that delivers all your prerequisite considering on time and at a cost-cutting budget.
PowerApps Customisation Services
We help you build and design customized solutions with the utilization of PowerApps to verify all the concerning points that can be easily built with our PowerApps Customization Services. PowerApps has an enormous capability to get any custom solutions on the go.
PowerApps Implementation Services
This ultimate low-code plethora of App development platforms integrates with multiple data sources where there is no urge to imply any long and lengthy code. We tend to provide end-to-end Implementation such as Insightful rich analytics, dashboard, and reporting solutions. Flexible Migration from featured applications to modern Office 365. Customize, design, develop and deploy the implementation of high-quality PowerApps Services.
PowerApps Integration Services
We make it easy and fast to integrate with any other custom applications that are compatible to fit with our PowerApps integration Services. We make it flexible to integrate with Third-Party integration like Third-Party integration with Microsoft Azure Services and Office 365, With the implementation similar to Enterprise Resource Planning (ERP) systems like SAP, Any other custom app compatible with the integration of PowerApps.
Salesforce integration with PowerApps
With our best in class, we facilitate to easily integrate, access and replicate the need for a Salesforce integration with Powerapps by implementing and enabling the API access to connect Salesforce within the PowerApps. Further, by prompting you to provide your Salesforce login, we make your Salesforce Login get connected to the PowerApps.
SharePoint integration with PowerApps
To easily customize a SharePoint in PowerApps in a hassle-free manner, we control communication bridge between user actions to build a strong SharePoint integration with the PowerApps. Once we completely built the PowerApps for your business, then you can easily add SharePoint within the PowerApps built-in App.
Build Custom Business Apps
Build business apps that can enhance the performance of your organization and can help you build low-code apps to solve the complex app structure quite easily. Authorize your team to begin building and launching apps quickly using our pre-built templates, drag-and-drop facility, and rapid deployment. Enables you to build any enterprise and business level apps with all the required advanced functionality which includes pre-built AI(Artificial Intelligence) components as well.
Power BI Platforms
With the Power BI platform's advanced features, it enables you to analyze data and share insights with the utilization of the Power BI business analytic tools. Get the smart and rich dashboard available for any type of device. Monitor your business data and turn it into a better business decision opportunity to drive better business within your organization.
Build Azure Functions Apps
With PowerApps and Azure Functions growing rapidly, we have integrated the complex functionality of Azure Function within our PowerApps services which can help you to get end-to-end results for all the high-level concepts across your organization. We create and build Azure Functions from the Azure portal which will directly help you to save a lot of costs and get rid of the manpower cost that costs a hefty amount to support any legacy application ultimately giving you more functionality options with fewer efforts.
FAQ QUESTIONS
DO YOU HAVE QUESTIONS? LOOK HERE
Microsoft Power Platform is a collection of low-code and no-code tools that enables users to create custom business solutions, automate workflows, and analyze data. The platform is built on top of the Common Data Service for Apps, which is a cloud-based data platform that allows users to create and manage data models and relationships. The Power Platform includes the following tools: 
Power Automate: Allows users to create and automate workflows across a variety of applications and services.
Power Apps: Allows users to create custom business applications that run in a web browser or on mobile devices.
Power BI: Allows users to connect to, visualize, and analyze data from a wide variety of sources.
Power Virtual Agents: Enables users to create and manage chatbots using a guided, no-code platform.
These tools are designed to work together seamlessly, and they can be easily integrated with other Microsoft services and third-party systems. The Power Platform can be used by business analysts, developers, IT professionals, and citizen developers to create custom solutions that meet the specific needs of their organizations. 
Also, there is a fifth tool called Power Virtual Agents, it allows you to create chatbots that can automate customer support, internal processes, and other tasks. 
Microsoft Power Apps is a tool that allows you to create custom business applications that run in a web browser or on mobile devices. The platform is designed to work seamlessly across a wide variety of devices, including: 
iOS devices: Power Apps supports the latest version of iOS, as well as older versions back to iOS 9.

 

Android devices: Power Apps supports the latest version of Android, as well as older versions back to Android 5.0.

 

Windows devices: Power Apps can be used on Windows 10 devices, including PCs, tablets, and smartphones.

 

Web browsers: Power Apps can be used on a variety of modern web browsers, including Internet Explorer, Microsoft Edge, Google Chrome, Mozilla Firefox, and Safari.

 

Custom applications: PowerApps also support building custom apps for specific devices and environments like canvas apps, model-driven apps, and portal

 
Overall, PowerApps is designed to be a flexible platform that can run on a wide variety of devices, so that users can access the information and functionality. With this, it allows building an app that can run on any device, anywhere, and on any browser.
Yes, it is possible to share applications created on the Microsoft Power Apps platform with external users. There are a few different ways to do this, depending on your specific needs and the type of application you've created. 
Share an app as an individual: If you're the person who created an app, you can share it with others as an individual. To do this, you can go to the app settings and select the "Access" tab, and then add external users as members by their email address.

 

Share an app with an organization: you can share an app with other members of your organization, such as other users in your company or your customers. To do this, you can assign the app to a security role, which controls who can see and use the app.

 

Share an app with an external user: if you want to share your app with someone who is not a member of your organization, you can use the "Sharing" option to create a link that you can send to the external user. This link allows the external user to access the app, but they will not be able to make any changes to the app or its data.

 

Share an app via a portal: If you have a Dynamics 365 portal, you can share your apps with external users on the portal. This would allow external users to create a portal account and have access to the app.

 

Publish as a standalone app: With power apps, you can also publish your app as a standalone app, which makes it publicly available in the app store. This option is more suited for the app which is meant for public consumption.

 
Yes, at Codevision Technologies we do offer post-development support with our PowerApps development services as it's an important part of the overall custom software development process. 
Our Post-development support typically includes a range of services to ensure that the app continues to function as expected after it's been released to users. This can include bug fixing, software updates, performance tuning, and ongoing maintenance to ensure that the app remains secure and compliant with any relevant regulations. 
For more information, you can discuss with our PowerApps Consultant – Inquire Now 
We are one of the reputed PowerApps development company with a team of experts who are well-versed in the platform and can help you create a solution that meets your specific needs.  
Our PowerApps Development Service is flexible and scalable which can help in growing your business ROI and also in many other aspects. We also take NDA Projects and ensure that your app and its data are secure, in compliance with regulatory requirements, and meet industry standards.