Instruction: How to use CV  Holidays Application
Steps to Install CV Holidays SharePoint Application

1. App Installation: When you click the "Add to App Site" button, a pop-up message may appear asking you to choose options in the "App Availability" section. You must select the "Only enable this app" option.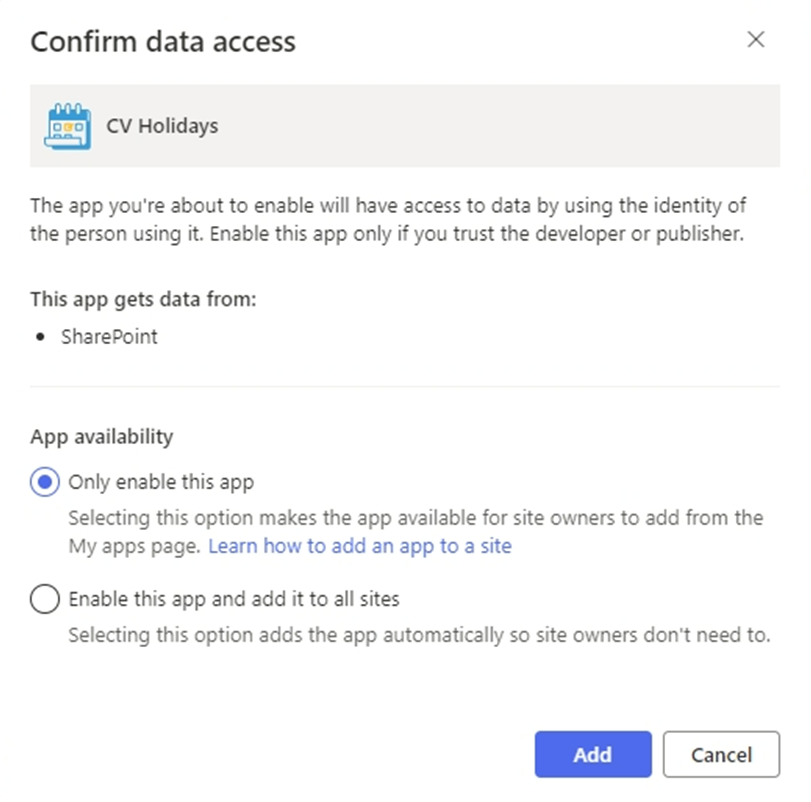 2. Once the Application is added, go to Site Contents of Site and click on the new button from the top left and select "App" from the drop-down option.
3. You can see the installed App in the "Apps you can add" section, then click the "Add" button to add the app to the Site.
Note: Once the Application is added to the site, it will be visible in site content with SharePoint List.

Steps to use the CV Holidays Application
1. Add a web part 
Note: First, make sure you have the necessary permissions to edit or add the SharePoint site page where you want to add the web part
2. Navigate to the section (panel) where you want to configure the web part.
3. Click the "Configure" Button to open the web part configuration panel.
4. Web part configure property panel will appear.
5. In Configure property panel, add the Web part title and select "Go to list" to open SharePoint Lists.
6. To add Single Holidays Detail, click the "New" button.
7. A form will appear to add New Items (Holidays, Festivals)
Fill in the form with the necessary information for the festival or holiday, including the name, date, and description. You can also add external links to provide additional information about each event.
8. Fill in the form and click the "Save" button. Once saved, the Item will render in SharePoint List.
9. To add or update multiple Holidays Details at the same time, click on "Edit in grid view" button.
10. Once you have added or updated all the festivals and holidays, click the "Exit grid" button to save all the changes.
11. Now go to the Site page where you have added the Web part and click on the "Publish or Republish" button to make your changes visible to other users.
12. To switch between list and card views, use the "toggle button" on the top right corner.
Note: Following these steps, you can use the CV Holidays – Festivals and Holidays web part to keep track of important dates and events on your SharePoint site