Hire WordPress Developer
Hire WordPress App Developers In India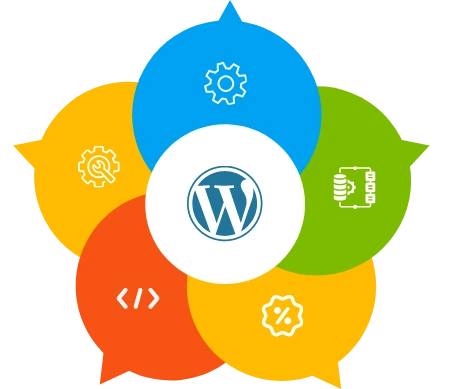 HIRE DEVELOPER
Hire WordPress Developer In India
Codevision technologies are one of the best-distinguished website development company to hire WordPress developer. Our dedicated WordPress developer will provide 100% contribution to the successful delivery of a WordPress website or other web development project.
Our expert WordPress web developer is astute with the most recent version of WordPress, they are capable of building a dynamic site with custom features. Our WordPress developers have a very huge experience that they can deliver any complex project easily. The entirety of the WordPress developers and designers are engaged in achieving the best result for the client. Our workflow process is very smooth and we guarantee our clients the successful completion of their projects with a specific timeline.
WordPress
Expertise Of Our WordPress Developers
01
WordPress theme Development
Hire our dedicated WordPress developer which is able to give you the best, rich and most customizable WordPress theme that is very attractive, user friendly, and eye-catchy.
02
Custom WordPress Development
Our offshore WordPress developers are capable to build an amazing and interactive website for large and small businesses.
03
WordPress Plugin Development
Hire our dedicated WordPress developer who is experienced in building cost-effective and scalable WordPress plugins which are the overall functionality of your website with customers' need.
04
PSD to WordPress theme conversion
Hire our dedicated WordPress developer to convert PSD or wireframe design to a fully responsive WordPress website with WordPress standards.
05
WordPress Website Development
Our highly skilled WordPress developer creates a lead-generating website that helps you to represent your company and your business value.
06
WordPress Blog Development
Our WordPress web developers can create a content marketing blog for your website which is easy to update and SEO (Search Engine Optimisation) friendly.
FAQ QUESTIONS
DO YOU HAVE QUESTIONS? LOOK HERE
The query for most of you is what will be the hourly rate for your new application. The cost is determined by the features and abilities that you need to implement, along with the developer's level of expertise. However, if you have any concerns about cost, more details about the project are available for you. Inquire Now for more updates. 
The cost of employing a WordPress developer varies based on different factors. First, the cost differs depending on how much time the developer works on an hourly basis, a part-time or full-time basis. Secondly, the cost and complexity of the work to be assigned to the offshore WordPress developers also influence the cost. 
By using WordPress developers from Codevision, you may give your website the benefits of knowledge and practicality that have contributed to the success of many websites. 
It is usually up to the client to determine how long it will take to complete a web assignment. If you have a deadline in mind, I can help you put the website together.