New SharePoint admin center update in Microsoft 365
Intelligent intranets are constantly evolving. The SharePoint admin center update in Microsoft 365 provides new insights to admins that align with the design of the admin centers across the suite. These new updates provide actionable controls to manage your intelligent intranet by highlighting activities and connections between your sites and content.
Let's have a look at the new features of the SharePoint admin Center Update:
Enhanced insights dashboard with SharePoint admin center
SharePoint Site information improved with 'Created From' and 'Teams-connection status
SharePoint root site replacement
SharePoint admin center now allows you to access OneDrive settings
Let's get into the details.
SharePoint admin center Enhanced insights dashboard
Insights and reporting are two of the most popular themes in feedback. To resolve this issue, SharePoint created a new dashboard. This dashboard provides admins with a variety of insights and reporting tools, which makes them more productive as SharePoint-backed collaboration spaces grow. Read more about SharePoint classic vs modern sites
Command central is now possible with this card-based dashboard. SharePoint administrators have visibility to important alerts and updates, which saves time and effort. There are many dashboard cards available that you can choose from, including trends on storage usage and sensitivity labels – also smart recommendations to improve your Microsoft 365 tenant. The majority of these cards are easy to use and allow you to take immediate action. These cards will also be available to administrators in the Microsoft 365 admin center and SharePoint admin center. Let's see how to update the dashboard in the SP admin center
Site information improved – 'Created From' and 'Teams-connected status
SharePoint is the connected service in many collaboration scenarios. End users can create sites through self-service. This allows them to work with other admins. Sites can be created directly from Outlook, Outlook, the admin center, or via API during migration. The new column 'Created From' shows which workload created the site.
Administrators can filter the 'Create From' column to see sites based on their origin. This awesome information will help to understand the reason a site was built. If a site is built from Teams, it can be seen that the site was designed to facilitate file sharing and collaboration within a project or team. Let's see how to integrate Microsoft Team with SharePoint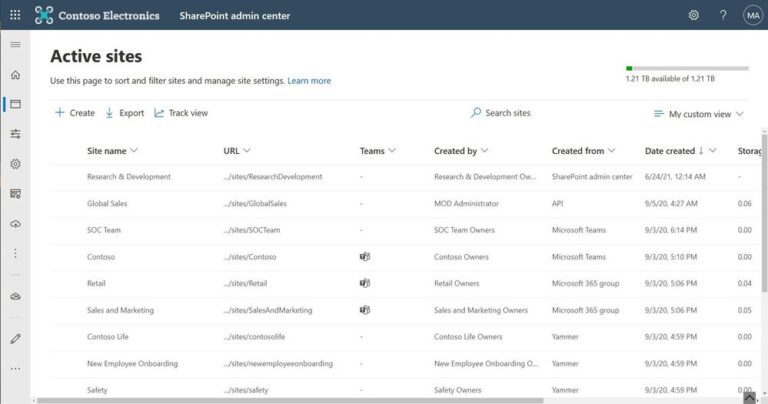 SharePoint root site replacement
A SharePoint-powered intelligent tenant must have a root site. It is what users see when they go to the root URL. like https://abc.sharepoint.com PowerShell used to be the only method of setting up a new root site. Now admin can directly replace the root site in the admin center by selecting the root site and clicking 'Replace Site' on the admin center command bar. Learn more about how to replace SharePoint root site replacement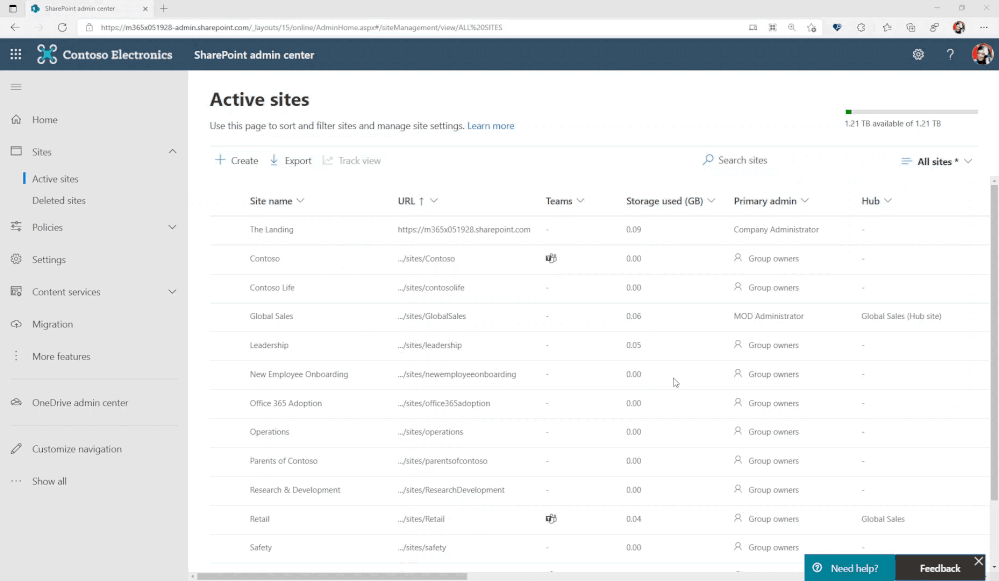 SharePoint admin center now allows you to access OneDrive settings
The new integrated admin center allows you to manage all aspects of your organization from one place. You can control internal and external sharing, set default storage limits, allow user notifications, configure retention policies, manage OneDrive sync controls, and manage user access controls. The user interface has been improved to make it more consistent and to support Web Content Accessibility Guidelines 2.1 compliance. They also added the Global Reader admin role which gives you a read-only view into the SharePoint admin center. The Global Reader role can be assigned to admins so they can see, but not edit, all administrative settings and features in all Microsoft 365 admin centers. This allows you to delegate admin responsibilities better.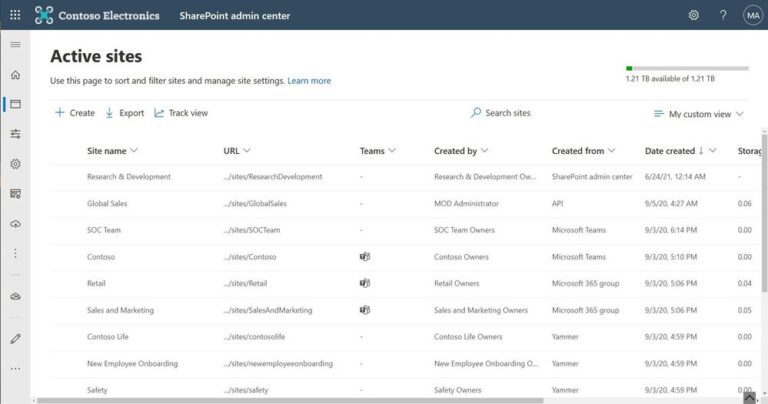 Conclusion
In this article, we show you the latest details of the SharePoint admin center update. This new functionality in the SharePoint admin center is really helpful for SharePoint developers if you are looking for Custom SharePoint development services please contact us. Submit your queries or question in the comment section.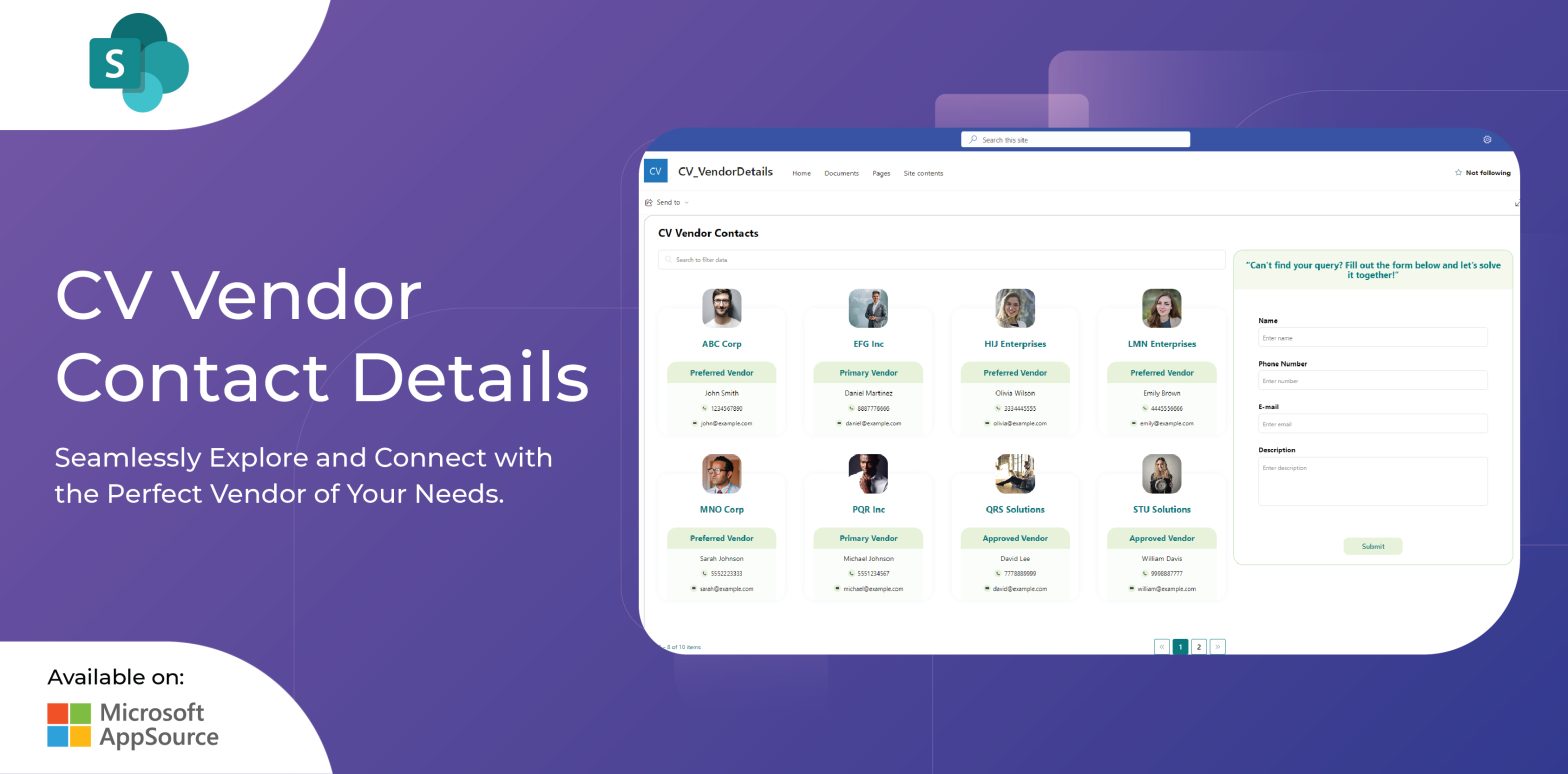 Streamline Vendor Management with the CV Vendor Contact Details SharePoint Application
Discover CV Vendor Contact Details SharePoint App by Codevision Technologies, designed to revolutionize vendor management in today's dynamic business environment. Streamline communication, simplify vendor searches, request new vendor additions effortlessly, and empower HR/Admin teams for informed decisions. Learn more about this innovative application and explore our suite of cutting-edge solutions.
Read More