SharePoint: Classic Sites vs. Modern Sites
Microsoft was at an intersection: Upgrade the maturing co-operation item, or watch it die in some horrible, nightmarish way. So, a year ago they began staging new "Modern" SharePoint pages in light of up-and-coming web innovation. These pages, and locales worked from them, evacuate many years of disappointment and are a delight to utilize. So let's get an understanding of SharePoint Classic Sites Vs Modern Sites.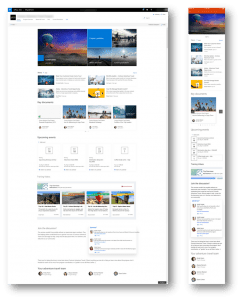 Here is one of the cutting-edge destinations, a Communication site, which would be utilized for distributing data on an Intranet. No customization or propelled design was required. It would have taken a great deal of work to make an exemplary SharePoint site resemble this! Also, the new Modern Site is already "Mobile Responsive".
 What is modern SharePoint?
Present-day SharePoint is a radical new client encounter. It's in excess of a crisp look, it's composed starting from the earliest stage to chip away at Mobile phones, and it tends to many bothering ease of use issues. Up until this point, present-day SharePoint exists just in SharePoint Online. Lists and libraries have the new look; you can compare both Classic and Modern document libraries from the below image.
The full effect of the current SharePoint is apparent in the editable pages. This is the place clients can improve by arranging web parts on a page to indicate only the data they need. That is a major piece of SharePoint's ubiquity: any business client can make a site in minutes! It's less convincing, be that as it may, if the website seems as though it was intended to keep running on an early form of Internet Explorer.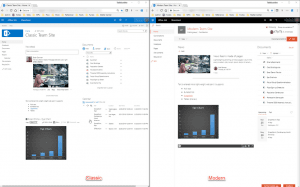 Top 10 Reasons to use Modern SharePoint:
This is the clearest preferred standpoint; it's not anymore an objective to make it "not look like SharePoint", and as a rule, clients will be more joyful with the outcomes.
It's truly standard nowadays that sites should function admirably on a cell phone or tablet. Attempting to do that in great SharePoint was an activity in dissatisfaction and sideways looking over.
In Classic SharePoint, the greater part of the page is made on the server, and the entire format should be sent over the system for each page. That is the way the web worked in 2002. This makes a bottleneck in the servers and prompts extensive system payloads. On the off chance that the server is most of the way around the globe, the speed of light backs things off considerably more.
In present day SharePoint, a large portion of the page is made in the internet browser. Huge lumps of SharePoint (counting the "SharePoint Framework") are put away outside of SharePoint servers, near clients around the globe (on CDNs or Content Delivery Networks). They are likewise effectively reserved appropriate on your PC, so they run almost as quick as a privately introduced program. Practically just the substance should be recovered from the SharePoint servers.
Exemplary SharePoint sites were independent, which implied utilizing SharePoint list and libraries for everything. That may appear to be smart, yet oh my goodness, a calendar or discussion hosted in a SharePoint list is certainly not something to be thankful for.
Classic SharePoint depends on heaps of little chains of command called site collections. Each site collections have a top-level site, and can likewise have child sites, grandchildren, and so forth. These chains of importance are exceptionally unyielding, and famously troublesome when organizations change.
For instance, assume a product moves from Division A to Division B in an organization, and the product site is in the Division A site collection. Your SharePoint individual is going to have a terrible day. There is no simple method to roll out the improvement and he or she will wind up re-making everything in another site over in the Division B site collection. Except if they have another reorg first. Modern sites utilize an idea called "hubs" where sites are all the more approximately associated. The product site can simply be changed from the Division A to the Division B center hub, and it will get the route, hunt, and look of a Division B site. Its URL won't change, so favorites and links won't break.
An outcome of this is the new universe of SharePoint is level. SharePoint establishments that have a level structure with loads of single-site collections will have a considerable measure less demanding time modernizing.
List and Library improvements:
There have been numerous list changes, including less demanding filtering, conditional formatting, and attention views, which once and for all provide a sensible way to show items that are missing required information. Modern lists also (at last!) address the feared "5,000 item view limit" that has baffled SharePoint clients for quite a long time. It does this by automatically creating indexes as they're needed, based on user interaction.. It's not immaculate, but rather for most circumstances it evacuates this enduring torment point.
Also, the structures and work process connected to lists and libraries is being modernized. PowerApps is gradually drawing nearer to equality with the heritage InfoPath form designer, and Flow (and its big sibling Azure Logic Apps) are supplanting SharePoint's built in workflow options. The greatest preferred standpoint of these new apparatuses is that they're not bolted into SharePoint; they can work with a wide range of cloud administrations, both inside Office 365 and past.
On the off chance that you have an interest in InfoPath and SharePoint work process, don't stress! InfoPath and the old work process motors aren't leaving at any point in the near future. Anyway you'll have to live with their limitations, as they're basically in a coma now.
Microsoft has presented various cool new highlights that lone work on Modern sites. These include:
Site classification and labels, so clients can see when they're on a site that contains touchy data, and easily label the contents for compliance reasons.
News feeds which naturally appropriate connects to pages (articles) over the sites in a hub and to the SharePoint mobile application and home page.
When all is said in done, Microsoft's web parts either work in classic or modern pages however not both. The only web parts that work both places are those written by 3rd parties (like you!) for the new SharePoint Framework, which allows developers to target both modern and classic pages with a single code base.
Some classic web parts were sufficiently simple to manage, however others required arcane information of XSL style sheets, display templates, and other antiquated web technology. The new web parts are substantially less demanding and more natural to set up, and don't require any exceptional specialized know-how.
The modern team site page was a great deal less demanding to set up than the classic one, for the most part because of quirks in the old UI that frequently declines to coordinate.
Classic SharePoint sites would run any JavaScript you should need to put there; they even gave web parts to that reason (the Script Editor Web Part and Content Editor Web Parts). That may appear to be sufficiently amiable, but in today's world you can't be too careful.
Microsoft has been evident that they're not killing classic sites at any point in the near future, but rather let be honest, classic sites are simply in a coma now. Any work you put into an classic sites is work you might need to re-try later on. In case you're building another web part, configuring the way a list is shown, or simply setting up a web part page, for what reason not do it the modern way so you can exploit Microsoft's investments in the future?
If you have any questions/assistance, feel free to contact here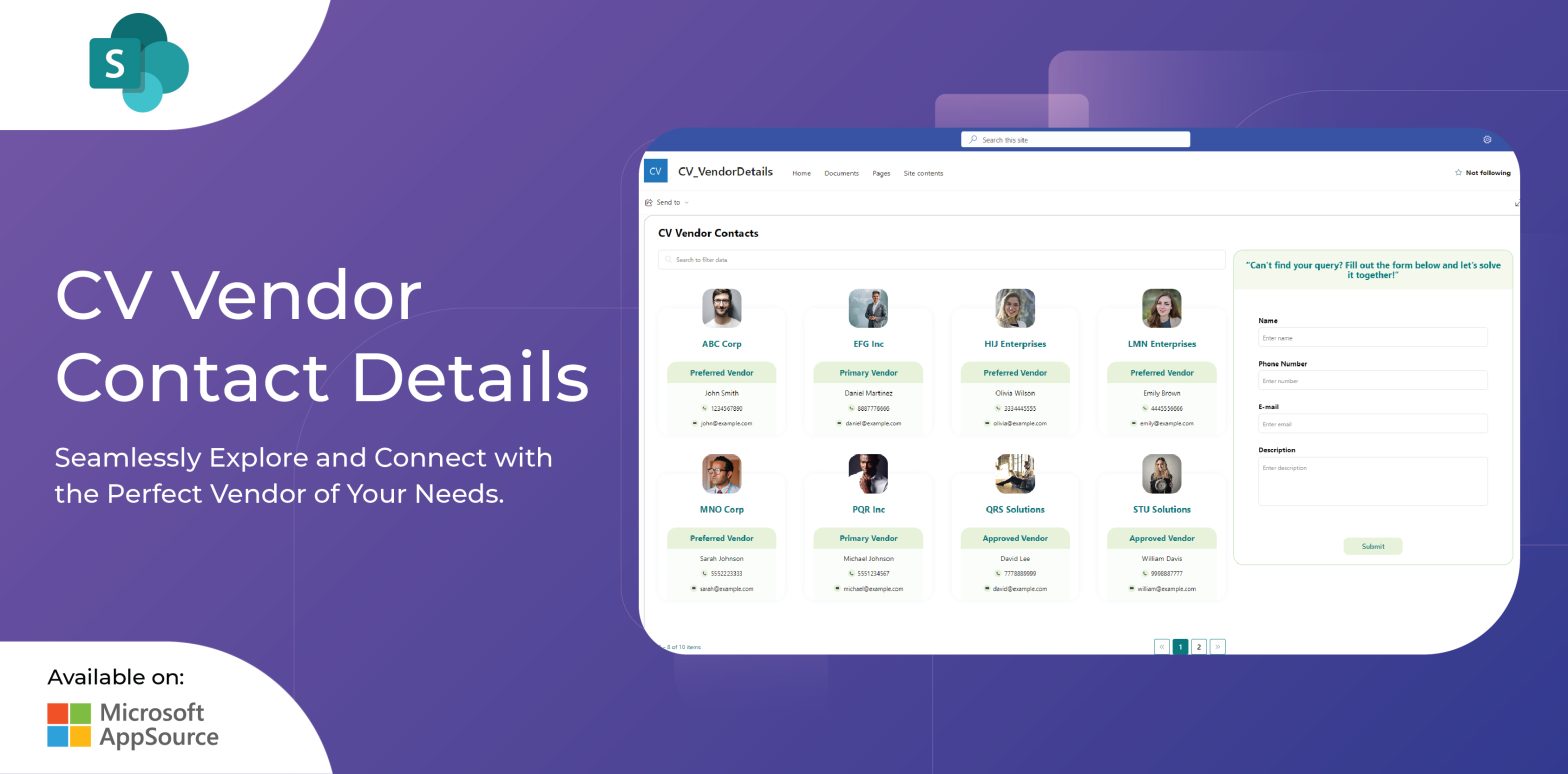 Streamline Vendor Management with the CV Vendor Contact Details SharePoint Application
Discover CV Vendor Contact Details SharePoint App by Codevision Technologies, designed to revolutionize vendor management in today's dynamic business environment. Streamline communication, simplify vendor searches, request new vendor additions effortlessly, and empower HR/Admin teams for informed decisions. Learn more about this innovative application and explore our suite of cutting-edge solutions.
Read More