Streamline Vendor Management with the CV Vendor Contact Details SharePoint Application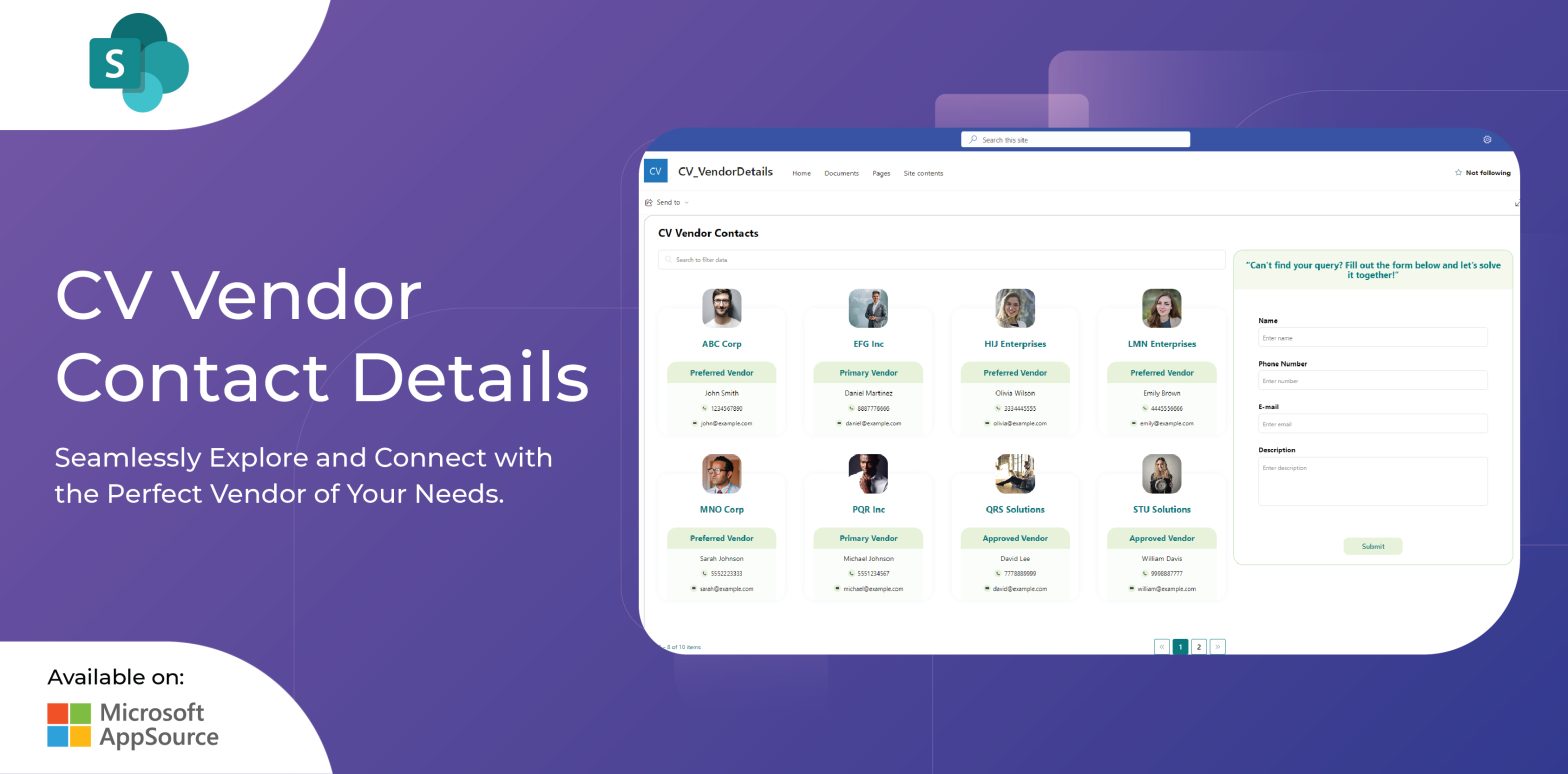 In today's fast-paced business world, managing vendor relationships efficiently is crucial to the success of any organization. The CV Vendor SharePoint Application is a powerful solution to simplify and streamline vendor management processes, enhancing communication and collaboration between users, HR/Admin teams, and vendors. Let's delve into the comprehensive features and benefits of this innovative application.
1. User-friendly Vendor Details and Direct Communication
The CV Vendor SharePoint Application provides users with a seamless experience to access detailed vendor information. Users can easily retrieve essential details about vendors, such as their contact information services provided. The application's intuitive interface allows users to initiate direct contact with vendors through email or phone calls. This direct communication channel facilitates quick and effective correspondence, ensuring project progress without delay. 
2. Effortless Vendor Search
Finding specific vendors can often be a time-consuming task. The CV Vendor SharePoint Application alleviates this challenge by offering a robust search feature. Users can enter keywords, vendor names, or specific services to quickly find the vendor of their needs.  
3. Requesting New Vendors
In instances where the desired vendor is not available in the application's database, users have the option to send a request to the HR/Admin. The intuitive interface includes a feature that allows users to submit requests for information about new vendors. This process ensures that the vendor database remains up-to-date and comprehensive, aligning with the organization's evolving needs.
4. Seamless Request Submission
Within the CV Vendor SharePoint Application, a user-friendly request form is available. This form allows users to effortlessly submit their unique requirements for new vendors.
5. Empowering HR/Admin
The CV Vendor SharePoint Application extends its functionalities to HR and admin personnel. HR/Admin users can access and review vendor details. This access allows them to make informed decisions regarding vendor management and selection. Furthermore, HR/Admin users can add new vendors to the system.
6. Seamlessly Integrating User Needs and Admin Actions
One of the standout features of the CV Vendor SharePoint Application is its integration of user requirements and admin actions. When a user submits a vendor request through the application's form, HR/Admin personnel receive an email notification.
This email includes detailed information about the user's requirements, enabling HR/Admin to assess the necessity and relevance of the new vendor. This integration promotes efficient communication between users and the administrative team, fostering collaboration and understanding.
Discover the capabilities of the CV Vendors Application and other cutting-edge solutions from Codevision Technologies by following the links below:
Apart from CV Vendors Contact Details App, our expertise extends to crafting tailor-made SharePoint Customization Projects. If you have distinct customization requirements for your SharePoint Portal – be it the creation of exclusive web components, the crafting of user-friendly interfaces, or the integration of advanced features – our proficient team is at your service. Reach out to us now to converse about your needs and watch us transform your vision into reality.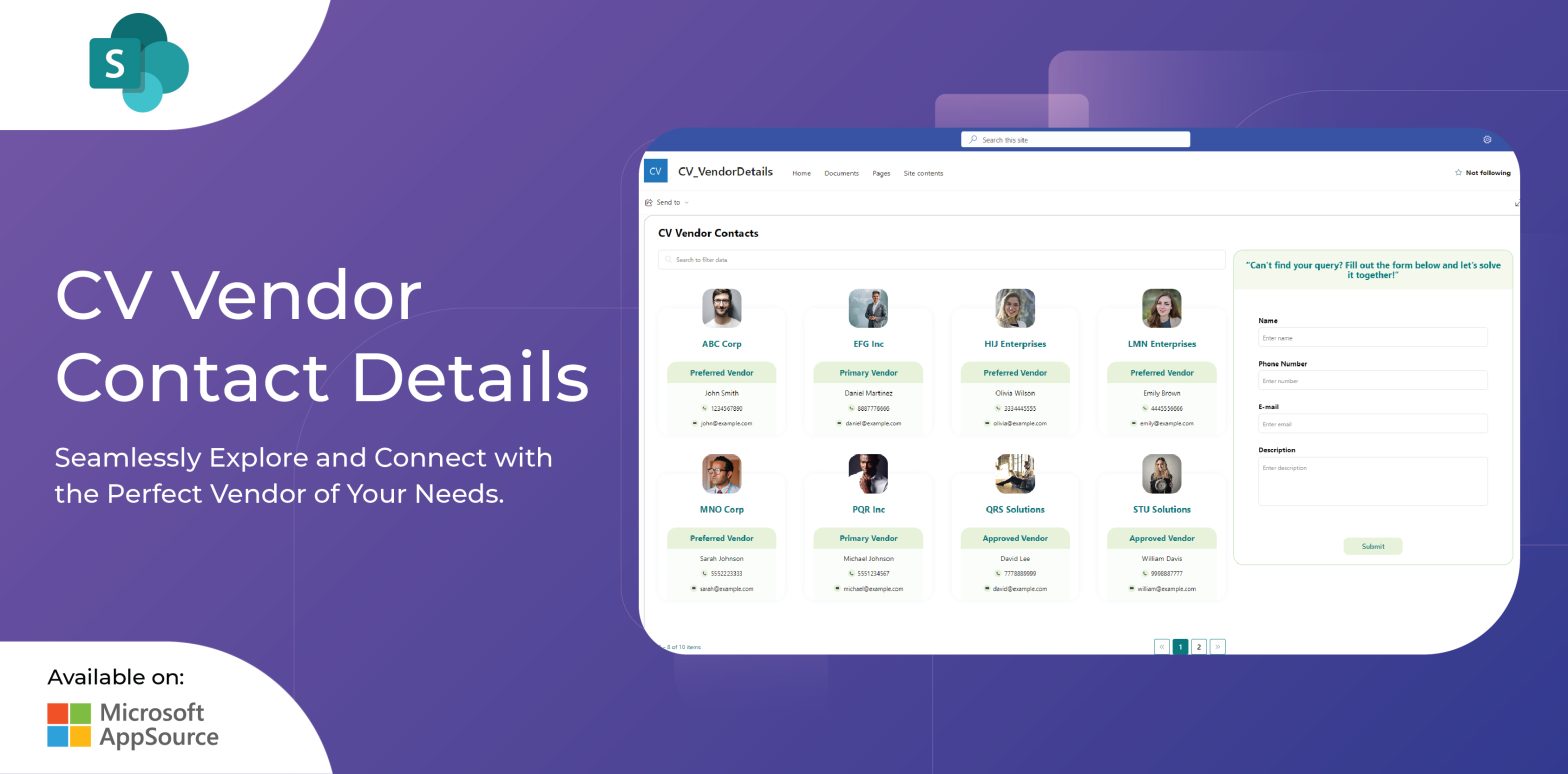 Streamline Vendor Management with the CV Vendor Contact Details SharePoint Application
Discover CV Vendor Contact Details SharePoint App by Codevision Technologies, designed to revolutionize vendor management in today's dynamic business environment. Streamline communication, simplify vendor searches, request new vendor additions effortlessly, and empower HR/Admin teams for informed decisions. Learn more about this innovative application and explore our suite of cutting-edge solutions.
Read More