Empowering Your Marketplace: Explore CV Classified SharePoint Application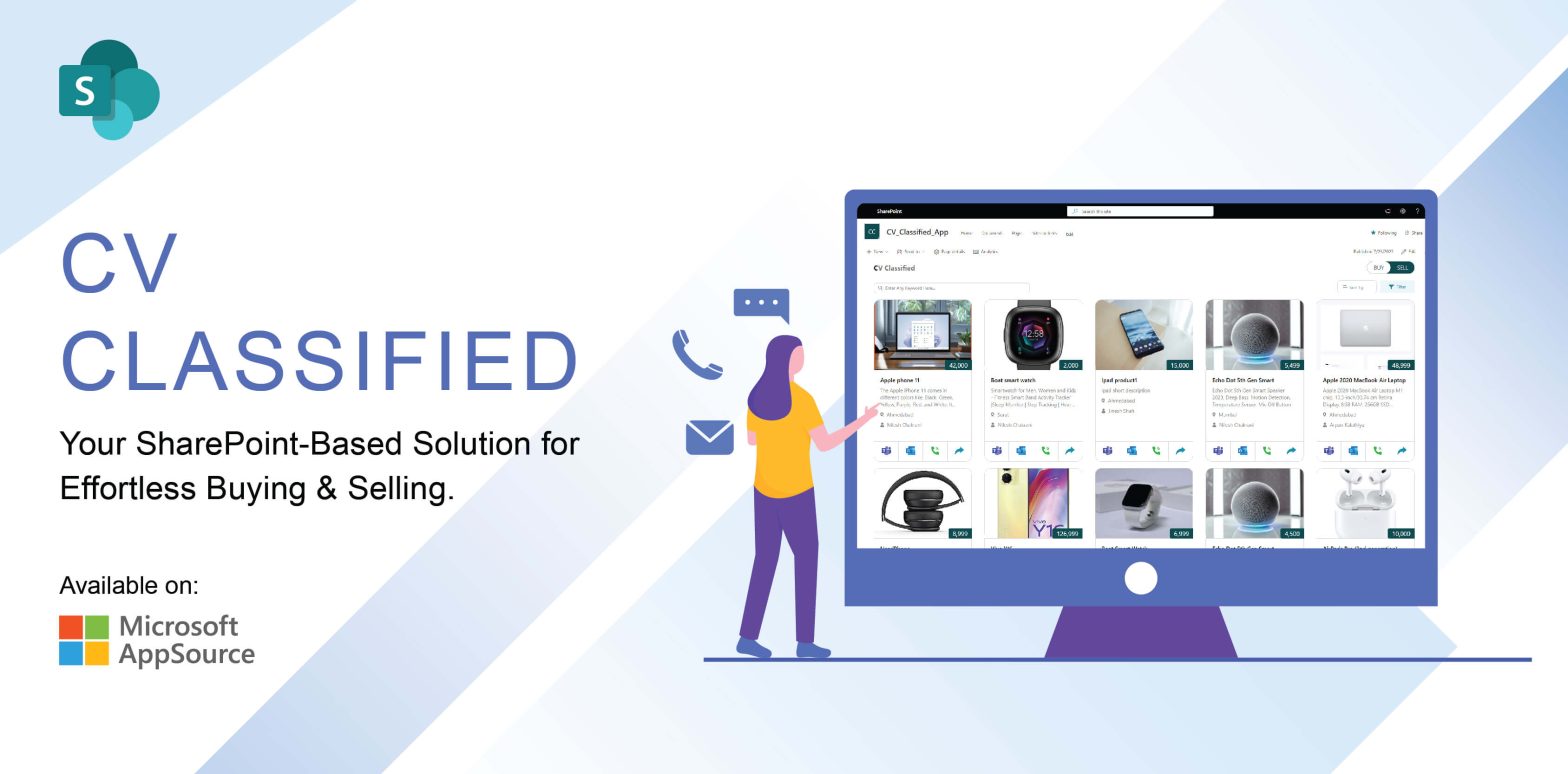 In the fast-changing world of business, CV Classified SharePoint-based application stands out as a modern solution. With its creative features and easy-to-use design, let's explore CV Classified and see how it can change the way you connect in the marketplace.
Introducing

Application
CV Classified is crafted to elevate the buying and selling process within the corporate world. Utilizing the capabilities of SharePoint web parts, it offers a seamless integration into your SharePoint site content, which can be perfectly coordinated with your current SharePoint Environment.
To know more about Installation process, click here
Key Features That Set CV Classified Apart:
1. User Access Control: Empowering Administrators
The application offers comprehensive controls, ensuring that admin can efficiently manage permissions for different user groups, including Owners, Members, and Visitors. With control at your fingertips, your marketplace remains secure and well-regulated.
2. Diverse Communication Options: Connecting Buyers and Sellers
This application offers multiple communication options to facilitate seamless interactions between buyers and sellers. Whether it's a quick chat on Microsoft Teams, a formal email through Outlook, or a straightforward call, the application provides the means to connect effortlessly.
3. Smart Filters and Sorting: Navigating Your Way
Finding the perfect product is quick with CV Classified's intuitive filter and sort options. Users can narrow down their search by filtering based on categories and price ranges. This feature enhances your experience by presenting only the most relevant options, making your journey through the marketplace efficient and enjoyable.
4. Share with Ease: Spreading the Word
Discovering an interesting product is exciting, and this application makes sharing it easy. With a click of a button, users can share products with others through generated links. This feature not only promotes social interactions but also enhances product discoverability, creating a vibrant community within the application.
5. Simple Product Listing: Empowering Sellers
For sellers, adding new products to the application is a straightforward process. With an intuitive interface, sellers can provide essential details like product name, description, price, and images. This streamlined process ensures that your products reach potential buyers quickly and effectively.
6. Dynamic Product Management: Keeping Up to Date
Sellers can effortlessly update product details, ranging from price and description to images and product status (active, inactive, sold). This flexibility ensures that your storefront remains current and engaging.
7. Mobile Accessibility: Buying and Selling on the Go
With mobile accessibility, you can explore the marketplace, make purchases, and manage your storefront from various devices. This adaptability empowers you to seize opportunities anytime, anywhere.
Explore CV Classified & other applications developed by Codevision Technologies from the links provided below:
Apart from CV Classified, our expertise extends to crafting tailor-made SharePoint Customization Projects. If you have distinct customization requirements for your SharePoint Portal – be it the creation of exclusive web components, the crafting of user-friendly interfaces, or the integration of advanced features – our proficient team is at your service. Reach out to us now to converse about your needs and watch us transform your vision into reality.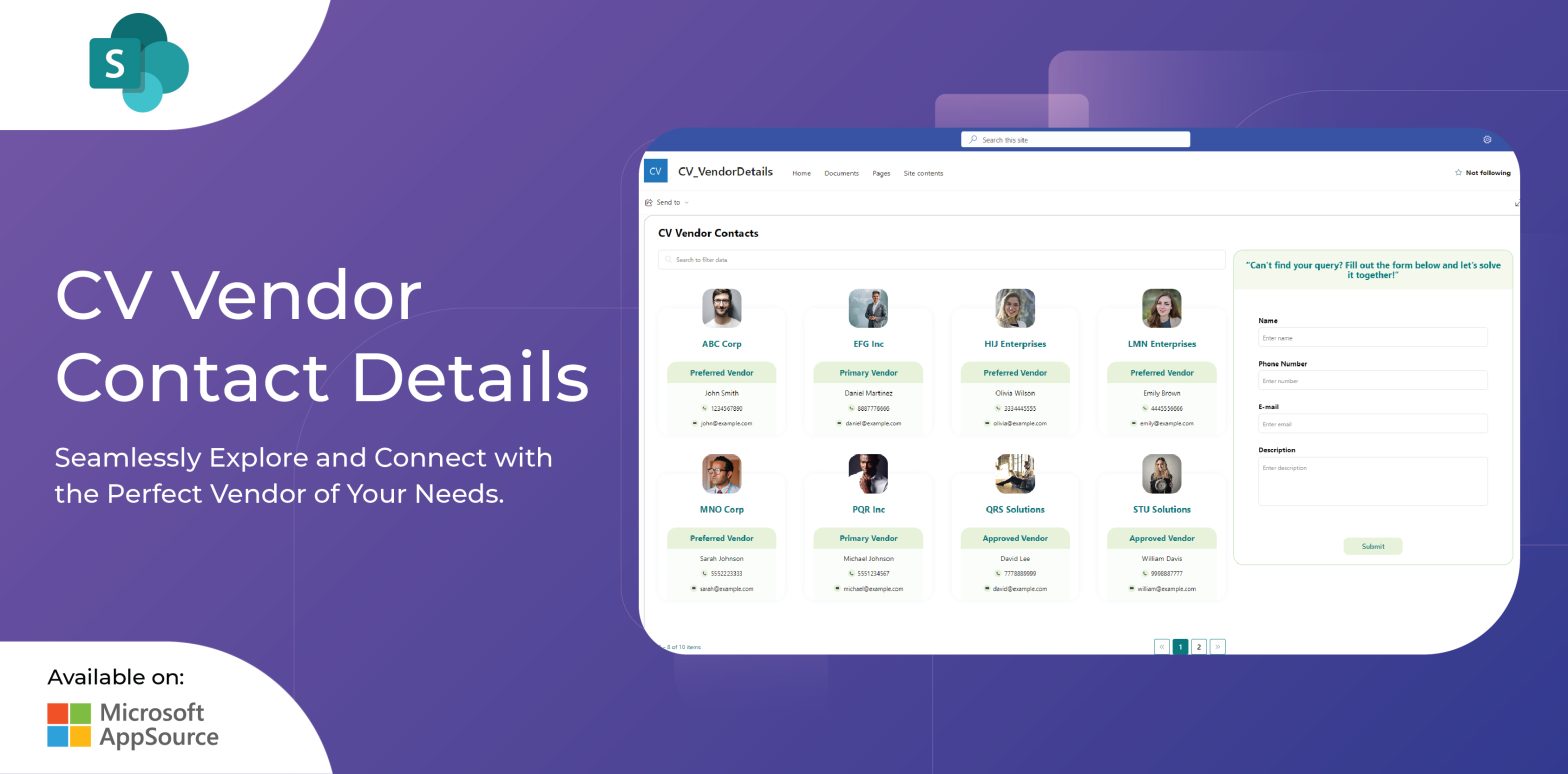 Streamline Vendor Management with the CV Vendor Contact Details SharePoint Application
Discover CV Vendor Contact Details SharePoint App by Codevision Technologies, designed to revolutionize vendor management in today's dynamic business environment. Streamline communication, simplify vendor searches, request new vendor additions effortlessly, and empower HR/Admin teams for informed decisions. Learn more about this innovative application and explore our suite of cutting-edge solutions.
Read More